Members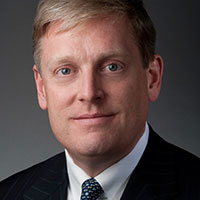 Ed Nichols
Investment Banker / M&A Specialist / Entrepreneur / Angel & Real Estate Investor
Ed Nichols is a seasoned financial professional and experienced intermediary with over two decades experience helping companies evaluate their strategic alternatives and implement them in a professional, discreet, and outcome-maximizing fashion.  Most recently, Ed has been lending his skill set to business owners to help them achieve the transitions of their dreams and avoid regrets.  In parallel with his advisory work, Ed also spends a lot of time with real estate renovation and development projects—especially on Chicago's Southside—as well as working with and investing in startup companies in a host of industries.
Ed spent most of his career working with Fortune 500 clients as a "bulge bracket" investment banker on Wall Street and in Chicago at Salomon Smith Barney (ultimately absorbed into Citi), where he completed over 90 assignments primarily for Industrial clients, including announced transactions constituting over $25B in aggregate transaction value.  Beyond his industrial focus, Ed also completed several engagements in the energy, technology, internet, media, telecommunications, and agricultural products industries.  When Ed resigned from Citi he was Managing Director and Head of Midwest M&A.
After leaving Citi, Mr. Nichols indulged his entrepreneurial aspirations by launching several businesses, including UpTime Fleet Services and Pernix Partners, as well as investing and working in others, including Vivacelle Bio, Inc., where he served as a member of the founding management team as COO and also on its Advisory Board.  During this time he consulted with and invested in a number of startups and real estate projects.
A native of Indianapolis, Ed received his bachelor's degree from the Krannert School at Purdue University, and began his career in the pharmaceuticals industry, working for Eli Lilly and Company in the manufacturing and finance divisions.  Eli Lilly volunteered to sponsor Ed's pursuit of an MBA at the Kellogg School at Northwestern University.  While at Kellogg Ed discovered investment banking and agreed with his prior employer to pursue a career on Wall Street instead of returning to pharma in Indianapolis.  Upon graduation with distinction from Kellogg, Ed commenced a career as an investment banker, specializing in Mergers and Acquisitions ("M&A").