Members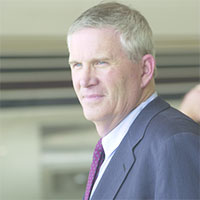 Dan Dickinson
Dan Dickinson has been Chairman of INAV Group, LLC's Board since its inception.  INAV is in the business of purchase, sale, and lease of commercial airline aircraft and  engines As the non-executive Chairman , Dan is responsible for setting the tone, culture and growth of INAV Group, LLC™ – a company that has garnered a global reputation for trust, dependability and quality.
With his wealth of industry knowledge, innovative business strategies and commitment to operating on a very high level of trust with partners, team members and customers, Dan's insight and guidance has played a crucial role in the continuous growth of the company. His adherence to establishing and promoting the company's core values and ethics has also led to the development of long-term partnerships, alliances and strategic relationships both nationally and internationally.
Dan also Chairs as the sole shareholder of G.A.S. Capital, Inc. (GASC) since 1976. GASC was established in 1969 and is a major shareholder of INAV Group, LLC™. GASC is a holding company with investments in a diverse group of worldwide aviation and some non aviation related companies and affiliates. The businesses specialize in the buying, selling, brokering and leasing commercial and business aircraft, helicopters, engines and spare parts worldwide and also the electrical generation space.
In 1996, Dan and his team noticed an ongoing demand for small power generator packages. To fulfill this need, Dan and the INAV Group, LLC management created INAV Power Generation and developed the 1.2MW Innovator Genset. In 2001, the majority interest of this innovative company was sold to American Electric Power (NYSE: AEP).
Over the years, INAV Group and GASC companies have sold over $1.5 billion in aircraft and have entered into leases as principles for more than 200 aircrafts and engines. The organizations have also conducted business in 52 different countries. Dan has formed 8 successful companies, sold 3 companies and merged others including the flagship General Aviation Services, Inc. which was sold in 2005 after 32 profitable years of operation  (www.genav.com)
Dan's affiliations with hundreds of institutions worldwide provide an extensive network, allowing his companies to achieve the ultimate goal of becoming one of the finest domestic and foreign aviation related organization in the world. Aside from his involvement with INAV Group, LLC ™, Dan is actively involved in promoting the industry. He is a founding member of the National Aircraft Resale Association (NARA), a trade association that was formed to establish ethics in the marketplace. He has served as NARA's President, Vice President and twice as Chairman.
Dan has also served on the following boards:
St. Norbert College (Board of Trustees and Executive Committee 1997 – present)
Chair, Transplant Advisory Council, Northwestern Medicine (2011-present)
InvestLinc Midwest Fund (Board of Advisors)
InvestLinc Group (Board of Directors)
Duncan Aviation (Advisory Board)
AEP Gas Power Systems (Board Member)
G.A.S. Capital, Inc. (Chairman of the Board)
Member, Chicago Arch Angels 2013-Present
Over the years, Dan has acquired niche knowledge regarding the performance and operation of aircraft and he worked in the industry since he was 21 years old. His first job out of college was selling corporate aircraft. In fact, before he graduated, he had already made his first sale.
Dan is a licensed pilot and he attained his commercial flying rating before his graduation from college. He is type rated in several bizjets including  the Learjet, Citation and Beechjet with over 10,000 hours of flying experience. In1972, Dan received his Bachelor's degree from Western Illinois University.